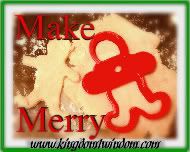 Do you bake, sew, craft, create?
So, here are the official rules for the Make Merry Gift Swap!
Be sure to snap a picture of your gift before you wrap it up and mail it away. Cause on Monday, November 30th, I will be blogging about my creation and putting up a MckLinky so that you can blog about yours!
Then, we'll all have to sit back and wait to see what is coming our way! If you don't have a blog, feel free to link to a MySpace or Facebook page. Or, you can send me a photo and/or description of your craftiness, and I'll blog about it for you!
I'm all about making this easy!
Are there rules/guidelines for the gifts?
Nope, as long as it is homemade, anything goes. I know that everyone is excited to give something nice, so I'm leaving the price of the materials up to you. Just do not overspend. You know whose blog this is!!
Is it too late to sign up?
Absolutely not. I haven't even drawn names yet, so you still have plenty of time. I will e-mail everyone with the name and address of their giftee on the Monday before Thanksgiving. If you do not receive an e-mail by Tuesday morning, please check in with me!
When do I mail my gift?
I'm assuming that everyone will mail their gift around November 30th, because everyone who is participating in the MckLinky roundup (on the 3oth) will need to have their gifts finished by then. But, participation in the roundup is not required. As long as you can commit to mailing your gift by December 15th, you are welcome to participate! And you are free to mail your gift as soon as you receive your giftee's name.
I guess that's it for Make Merry news! You'll hear from me on the twenty-third!